100 Years and Counting...
The Vollmar family began veterinary service in our area more than 100 years ago when Dr. Otto Vollmar graduated from McKillip Veterinary College in Chicago in 1912 and moved to Montgomery, Minnesota. There he cared for the area's work horses and cattle, making his rounds on horse and buggy.
Two of Otto's four sons chose to become veterinarians. Otto's eldest son Dr. Roland Vollmar began veterinary service in Montgomery after graduating from Kansas State University in 1939. Otto's second son Dr. Warren Vollmar, after graduating from Iowa State University in 1943, began his veterinary practice out of his home in New Prague. Both served the area livestock for many decades.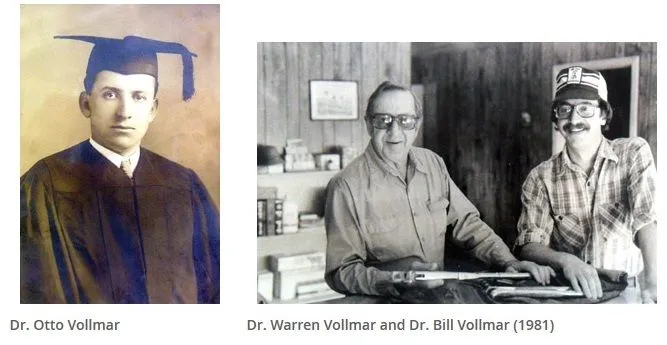 The third generation of Vollmar veterinarians began service to the area when Warren's son, Dr. Bill Vollmar, graduated from the University of Minnesota in 1981. He started New Prague Veterinary Clinic, which cared for both livestock and companion animals. His practice was moved to its current location on East Main Street in 1990.
Bill's daughter Dr. Katie Vollmar, graduated from the University of Illinois in 2017, becoming the fourth generation of Vollmar veterinarians to serve the community.


Dr. Bill Vollmar and Dr. Katie Vollmar, holding photos of the late Drs Otto and Warren Vollmar

Today the Vollmars continue the tradition of veterinary care in our community. Dr. Bill and Dr. Katie Vollmar work together to provide veterinary care to pets in New Prague and the surrounding communities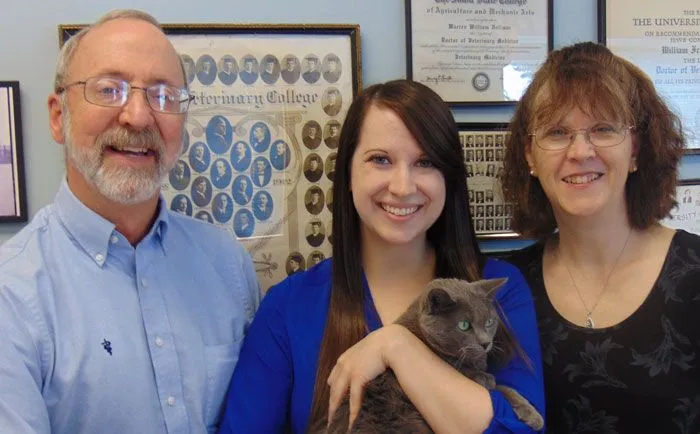 Dr. Bill Vollmar, Dr. Katie Vollmar holding Lilo the cat, and Judy Vollmar